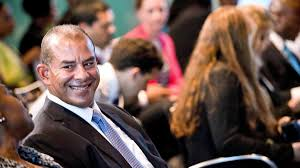 Harry I. Martin, Jr. is the founder and president of The Martin Group and founded Intelligent Decisions (now know as ID Technologies and Applied Insight).  Prior to the incubation of The Martin Group in 2014, Mr. Martin served as founder, president, & CEO of Intelligent Decisions for close to 30 years. Here he oversaw the company as it grew into a leading solutions provider serving federal, state and local governments and Fortune 1000 customers. During this time, Mr. Martin grew the company from fulfilling small task orders to over 700M dollars in revenues.
Over the evolution of the company, Harry Martin Jr. expanded ID's products and custom manufacturing capabilities to include a vast array of professional services and advanced systems integrations, along with innovative solutions and programs designed to serve the intelligence community. Mr. Martin's long-term vision, partnerships with leading IT vendors, and commitment to customer satisfaction positioned ID as one of the largest value-added resellers and systems integrators in the Washington metropolitan area.  Over the course of the lifetime of the company, ID did well over a billion dollars in revenues with the federal government. Intelligent Decisions was the top privately-held company doing business with the NSA, and was often referred to as a "national asset" by the then director of the agency, Keith Alexander.
Throughout his career, Harry I Martin Jr. has held security clearances at the highest levels and occasionally was required to brief members of the United States House Permanent Committee on Intelligence (HPSCI). ID was even quoted in a Tom Clancy novel as one of the go-to contractors for the intelligence agencies.
Additionally, while Harry Martin Jr. led ID the company was awarded numerous awards by both partners and the industry.  Some of these awards include Dell Partner of the Year, Cisco Partner of the Year, Inc 5000, The Schwartz Award Washington Technology Top 100, and a nomination for GovCon Executive of the Year.  While all of these awards were an honor to receive, the awards Mr. Martin was most proud of were the ones that recognized the employees of ID and the culture of the company: Washingtonian Magazine Best Places to Work and Washington Business Journal Best Places to work.
Throughout his career, Harry I Martin Jr. has been instrumental in managing major engineering efforts in the areas of systems integration, encrypted data processing systems, and ECM/ECCM technology directly supporting critical US Defense programs. Well-versed in both sales and engineering, Mr. Martin has developed successful mission support programs for federal end-users worldwide.
Under the direction of Harry Martin Jr., The Martin Group has invested in over 30 early and mid-stage companies, moving beyond investing solely in federally focused technology firms.  With offices in DC, Los Angeles, and the Bahamas, Mr. Martin has taken his analytical, data-driven approach to a wide array of commercial and B to B companies including: Finance, Food & Beverage, Music, Apparel technology, Green Tech, Application Development, Big Data Analytics, Real Estate, Manufacturing, and even a highly-successful, cutting edge, data driven Marketing & Branding company. Mr. Martin has also lent his experience to partners in the Film and Entertainment industry. View the Harry I Martin Jr. IMDB page for more information.
An active participant in professional, charitable and civic associations, Harry I Martin Jr. has long been recognized throughout the industry and the Washington, DC area for his entrepreneurial approach as well as his vision towards philanthropy. Instilling a strong sense of corporate responsibility has always been an important piece of the foundation of all of his endeavors and remains a focal point for The Martin Group today. He, along with the employees of The Martin Group, are proud to support organizations such as: The Tiger Woods Foundation, ThanksUSA and The George B. Thomas Learning Academy. Not just through monetary donations, but also through their time and service.
Additional information on The Martin Group can be found at martininvestinggroup.com. Follow Harry I Martin Jr. on Twitter or connect with Harry Martin Jr. on LinkedIn.